After the conclusion of the International Military Tribunal at Nuremberg, the trials known as the Subsequent Nuremberg Trials started. The purpose of these trials was to determine the guilt of second-tier Nazis accused of those crimes and contributed to crimes against humanity.
On May 10, 1947 started in Nuremberg the Case VII, the "List Trial" (official title: USA versus Wilhelm List et. Al."), widely known as the "Hostage Trial". The defendants were 11 out of 12 Generals, accused of war crimes in the Balkans. (defendant Franz Böhme committed suicide on May 29, 1947).
The trial lasted 117 days and the sentences imposed by the Nuremberg Court on February 19, 1947, were the following:
Wilhelm List – life sentence
Walter Kuntze – life sentence
Hermann Foertsch – acquitted
Curt von Geitner – acquitted
Maximilian von Weichs (exempted from the procedure for health reasons)
Lothar Rendulic – 20 years of imprisonment
Ernst Dehner – 7 years of imprisonment
Ernst von Leyser– 10 years of imprisonment
Hubert Lanz– 12 years of imprisonment
Felmy Hellmuth – 15 years of imprisonment
Wilhelm Speidel– 20 years of imprisonment
The last two were "punished" as responsible for the Wehrmacht crimes in the area of Kalavryta.
Karl von Le Suire, the "leader" and responsible of that massacre never stood trial as a war criminal, but died as a soviet hostage.
Everyone sentenced between 1951 and 1953 were released.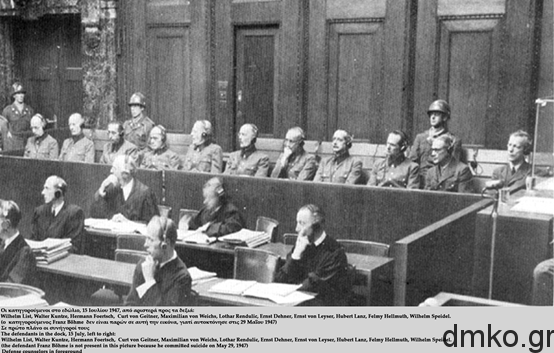 (Photo: The defendants in the dock, 15 July 1947, left to right. Defense counselors in foreground